Welcome to Huntfield Kennels
From Field to Front Porch- Companions of a lifetime
Welcome to Huntfield British Labrador Retriever website. Through the careful selection of just the right breeding stock, Huntfield offers you championship caliber British Bloodline Labrador Retrievers for the discriminating lab owners/hunters.
For many years our bloodlines have been tediously and selectively bred for several key desirable traits; calm, controlled temperament, the unwavering need to please; a balanced, driven but steady spirit and last but not least, beautiful looks coupled with uncanny hunting instincts and ability.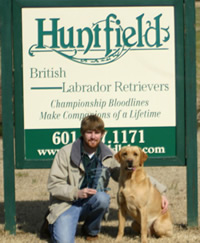 Our trainer Stewart Hoy and his dog Huntfield's Foxfire Sage.